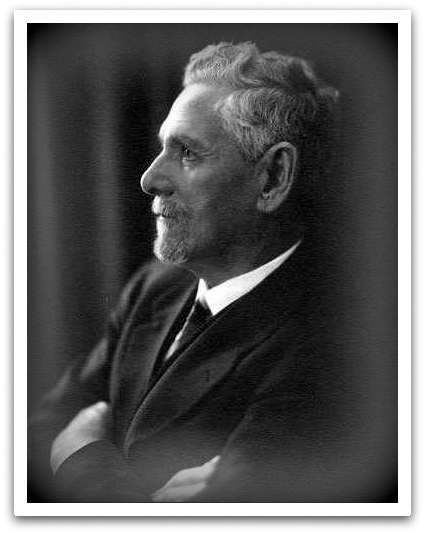 Our heritage & founder Sir Sidney Kidman.
Born in South Australia, Sidney Kidman left home aged 13 to work as a sheep drover. Being a man of vision, he formed a small business with his brother in droving and trading cattle and horses.
Mrs Rinehart's grandfather, James Nicholas, was in Cobb & Co and invited his friend the younger Sidney Kidman into part of the growing Cobb & Co coach business. The success of the then rapidly growing coach business allowed and required the two men to purchase more horses and several stations together.
S. Kidman & Co Pty Ltd was founded in 1899. Sir Sidney went on to become the greatest pastoral landholder in modern history, earning the nickname of "The Cattle King".
About S. Kidman & Co
S. Kidman & Co Pty Ltd is one of Australia's largest beef producers with a herd of 171,000 cattle. The company has pastoral leases covering approximately 80,000 square kilometres in three states and the Northern Territory. Kidman cattle stations produce grass-fed beef for export to Japan, the USA and South East Asia.
In the spirit of its founder, rural innovator Sir Sidney Kidman, the company is constantly striving to find better ways to do business. Sir Sidney helped pioneer the first Australian frozen beef and mutton exports.
The Kidman culture values:
rural tradition
more than a century of success in the outback
the land that sustains their herd
relationships with customers and suppliers
the respect shown by Australians
employees and their loyalty
Australian Outback Beef Pty Ltd acquisition of S. Kidman & Co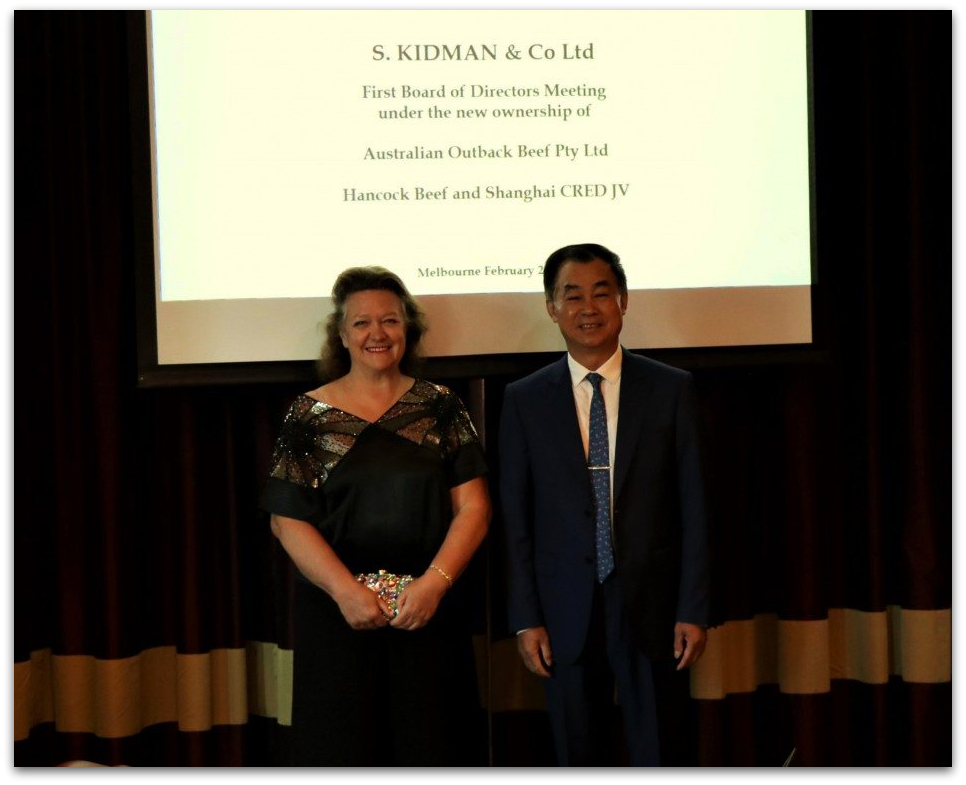 The joint venture company, Australian Outback Beef Pty Ltd (AOB), owned 67% by Hancock Prospecting  and 33% by Shanghai CRED Real Estate Stock Co Ltd, acquired 100% of the shares of S. Kidman & Co Ltd (Kidman) in late 2016.
Kidman is an iconic family company, founded by Sir Sidney Kidman in 1899, and is one of the Australia's largest beef producers with a herd carrying capacity of 171,000 cattle across South Australia, West Australia, Queensland and the Northern Territory.
Building on the legacy of the legendary Sir Sidney Kidman, a friend and business partner of James Nicholas (Mrs. Rinehart's maternal grandfather), Hancock and Shanghai CRED are growing the business, investing in innovative technologies to improve business practices and enhance efficiencies and developing new export markets.
The quest to constantly improve all areas of company business extends to the environment.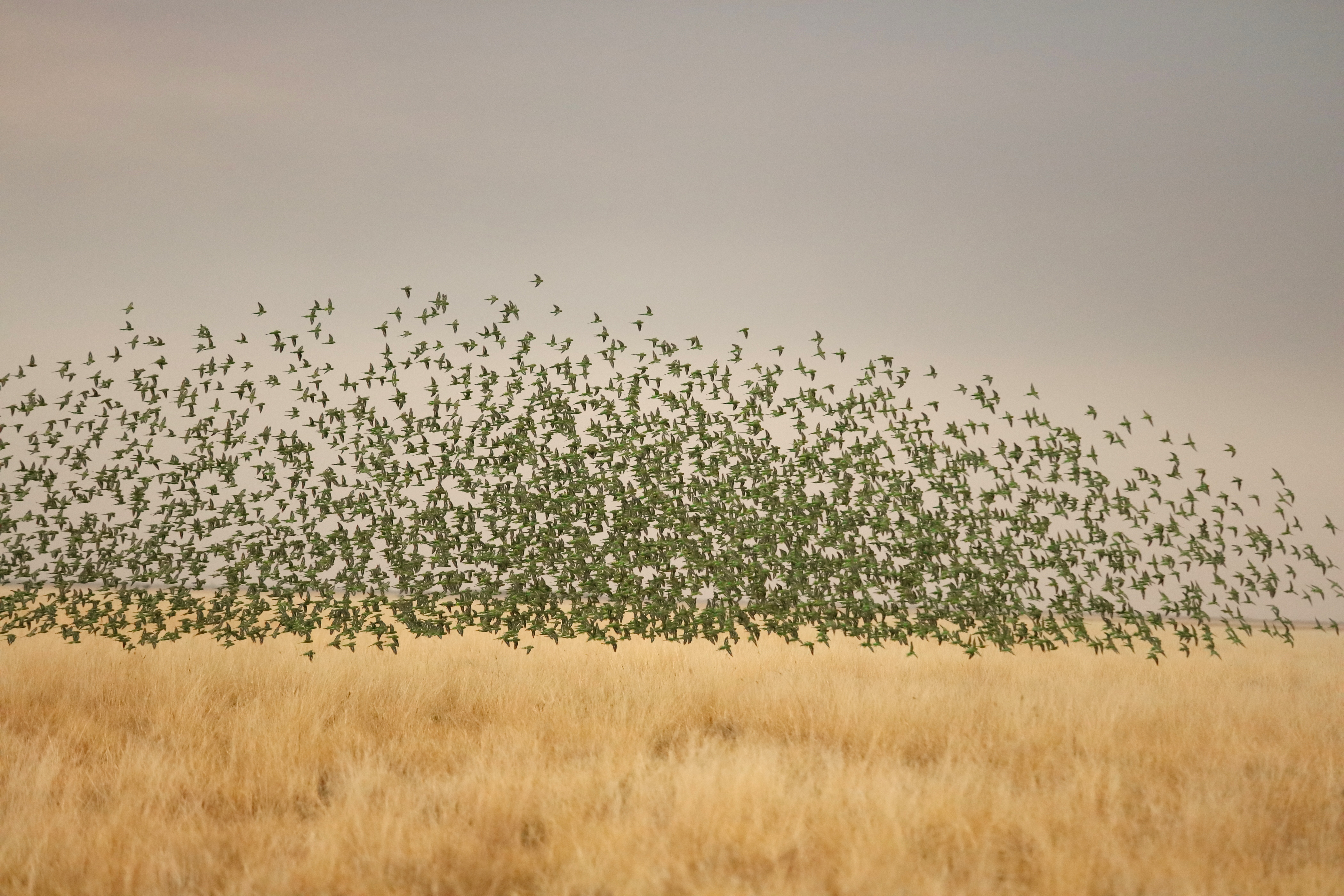 Managing the Environment
Business Commitments to Sustainable Agriculture
Running a soil and vegetation surveillance and monitoring program to track trends and identify management priorities (erosion control, revegetation, pasture spelling, burning, weed control, pest control). Maintaining base resources important to sustainable grazing.
Appraising forage supplies every season to help Station Managers adjust stock numbers and placement to achieve maximum sustainable beef production.
Providing maps, specialist advice and training to improve planning and to ensure cost-effective infrastructure development which is both environmentally and culturally sensitive.
Collaborating with Government agencies, research institutions, other industries, Aboriginal people and others with legitimate interests in the lands managed under the Kidman operations.
Conservation Initiatives
Excluding livestock from high conservation habitats (mound springs, drought refuge wetlands, rare plant communities), cultural and geological sites.
Helping control feral animals and weeds to protect rare or endangered species and unique habitats.
Funding applied research for managing and conserving biodiversity and for achieving ecologically sustainable development.
Rehabilitating overgrazed areas, eroded tracks and areas dominated by excessive woody vegetation.
Minimising wastage when using artesian waters.
Reduce fuel used in the supply of stock water by excavating farm dams, setting up radio telemetry systems and installing solar pumps.
Participating on committees, boards and councils concerned with natural resource management.
A whip across his shoulder
Poem by Ross Rolley
A whip across his shoulder and a twinkle in his eye,
beloved horse and faithful dog, on them he could rely
to take a dreamer far and wide while building on a name
that farmers, bankers, pollies learned was steeped in rural fame.
Sir Sidney Herbert Kidman: he was born at Athelstone:
from humble, farming English stock a mighty man had grown.
A softly spoken, honest soul who scorned vulgarity,
he loathed all waste and drove himself to squash imparity.
At thirteen years, 'The Kid' left home: he did not say goodbye,
his quest to find his brother, George, beneath some Aussie sky.
A one-eyed horse, a worn old saddle, five bob to his name,
the worldly goods he used to build vast wealth and wide acclaim.
He was a smart and bush wise lad with wild, ambitious dreams,
to be a squatter of repute, to master droving teams.
He yearned to ride a big, black horse across vast grazing land
and stock his country, mile on mile, with cattle of his brand.
He knew he had a daunting task, a long, hard row to hoe;
but, always, he had found the gift to make ideas grow.
Some painful, early lessons warned: be wary on the brink;
but never quit and worship water – never turn to drink.
His peers and teachers taught him that, pure water has no smell,
no colour, taste or charm of note, no feature to excel.
Ignoring this had been his saviour over many years
when murky, running water was like music to his ears.
Clean water has no odour – that's not true of summer rains
when, after months of searing heat, the storms are on the plains.
The Red Gum's cleansing perfume tells that winter-time is nigh,
while many other blooms will herald ending of the dry.
His visions were of cattle camps and sleeping under stars,
of endless open grazing lands and rippling river bars:
of settling mobs of cattle down upon the moonlit plains,
then resting well when lulled to sleep by jingling hobble chains.
Of all Australia's sights and wonders, sunsets reigned supreme.
He'd never seen a twilight time, that softly dappled beam;
but knew arrays of hue and light most could not comprehend,
wide blazing floods of blood-red skies that ran for months on end.
'The Kid' as he was fondly known, worked hard and wore the jokes:
he often rode alone for days, like all the station blokes.
He watched, he learned and gained the skills that always served him well
until, at last, he cut the tie and bade the boss farewell.
One meet, he rode a leggy horse – he didn't know his name.
He won the Squatter's Plate, by far, a jockey's purse to claim.
The effort earned the winning hoop a pup and ten pound note,
the cash to buy an agile roan of stamp and shining coat.
'The Kid' became 'The Cattle King' as if decreed by fate
to build an empire with the goal to graze in every State.
Sid ventured out and life progressed on business he secured;
his word, his bond and guarantee that trust would be ensured.
In June of Eighteen Eighty-Five, our Sidney took a bride
a teacher lass named Isabel who schooled her man with pride.
They travelled all around Australia, four times over-seas,
while, in between, their children played beneath Kapunda's trees.
In Nineteen Thirty-Five, Sid died: his time on earth was done.
He had been honoured with a Knighthood – Nineteen Twenty-One.
He left three daughters and one son, and his devoted wife:
they knew their wealth had come from sharing altruistic life.
Domestic stock and distant stations bear the Kidman brand.
Australians, all, should salute a legend of this land,
should recognise how fine he was and pay him our respect,
accept his challenge, show Sir Sid his faith had been correct.
Poet's Note
This work does not in any way reveal the true extent of Sir Sidney Kidman's life. His exploits, failures, strength and generosity must be a matter of study for those interested.
Towering over this private kingdom with a bushwhacker bullwhip wrapped around his right shoulder was the lean, sunburned 6-foot Kidman.
Around the time that Kidman purchased Eringa Station he purchased a mansion named Lanark from Scotsman Alexander Greenshields in Kapunda. In 1899 he renamed it Eringa. Three years later part of it was destroyed by fire. It was reroofed with French Marseilles terracotta tiles and some interior Art Deco stained glass panels and doorways. Before Kidman and his family left Eringa in Kapunda in 1921 they had a new house designed and built in Northgate Street, Unley Park, Adelaide. They also named that new home Eringa. The Eringa station was clearly very special to Kidman and the company cheque books were printed with the Eringa station "X70" cattle brand on them.
Sir Sidney Kidman (1857-1935), pastoralist, was born on 9 May 1857, probably at Athelstone near Adelaide. He died at his home 'Eringa' at 76 Northgate Street, Millswood (now Unley Park) aged 78, on 2nd September 1935, following a brief illness. He was survived by his son, Walter, and three daughters. Sidney Herbert Kidman was knighted in the 1921 Birthday Honours for his support of the war effort.
Kidman's 100,000 Sq. K. of pastoral land is spread over three states, producing about 15,000 tonnes of carcase beef each year, including about 1.3pc of Australia's boxed beef exports.
The Farmer – The Pearl of Them All
Poem by Murray Hartin
Australia is chock-full of champions
And history will keep safe their names
We share moments of proud men and women
Who have climbed to the top of their game,
They provide us with great inspiration
But if I may make a very big call
If the aim is to recognise champions
I think The Farmer's the Pearl of Them All.
See the tough game he's in never ends
And the playing field's often quite rough
You need wet stuff to fill up the rain gauge
Talent and hope aren't enough
Resilience plays a huge factor
Without it the greatest may fall
And our champion has got it in spades
The Farmer, The Pearl of Them All
Plus courage to push through the hard times
You need it to last on the land
While the Rain Gods can smile on you sweetly
Control can still slip from your hands
Too much is as bad as too little
A flood rocks him right to the core
But he mops up and continues the battle
The Farmer, The Pearl of Them All
Sometimes there are knee-jerk reactions
From those who are desperate for votes
Who pretend to be well-versed in matters
But wouldn't know chick peas from oats
While he tries to make sense of this madness
That again puts his back to the wall
Each day he heads out to the paddock
The Farmer, The Pearl of Them All
Dairies are forced into closure,
Imports have taken their toll,
Red tape and taxes are killers,
He gets butchered by Woolies and Coles,
Drought aid is too little too late
There are no pro-active plans on the floor
Yet they never ask him for solutions,
The Farmer – The Pearl of Them All.
His comrades all share his frustration,
Be it vegetables, fish or fruit trees,
These growers just want common sense,
They're really not that hard to please,
Sprayers, contractors and drivers,
He speaks on behalf of them all
But the Pollies just turn a blind eye
To The Farmer – The Pearl of Them All.
Look, it's not all bad luck and crook seasons
When the planets align life is sweet
He knows when he gets a fair go
His produce is real hard to beat
He'll knock the froth off a couple of cold ones
And most likely have a few more
To celebrate the life he has chosen
The Farmer – The Pearl of Them All
And that's why we're all here tonight
It's what National Ag Day's about
To give hope to all folk on the land
If they won't listen we'll stand up and shout
For bushies love getting together,
Just whistle, they'll soon hear the call
And gather to honour their brethren
The Farmers – The Pearls of Them All
So next time the talk turns to heroes
A subject of much great debate
And you discuss who befits such a title
Spare a thought for our battling mate
In the history of all things Australian
He has well-earned the right to walk tall
So please raise a glass to our champion
The Farmer – The Pearl of Them All.
Inspired by Will Ogilvie's classic poem 'The Pearl of Them All'.