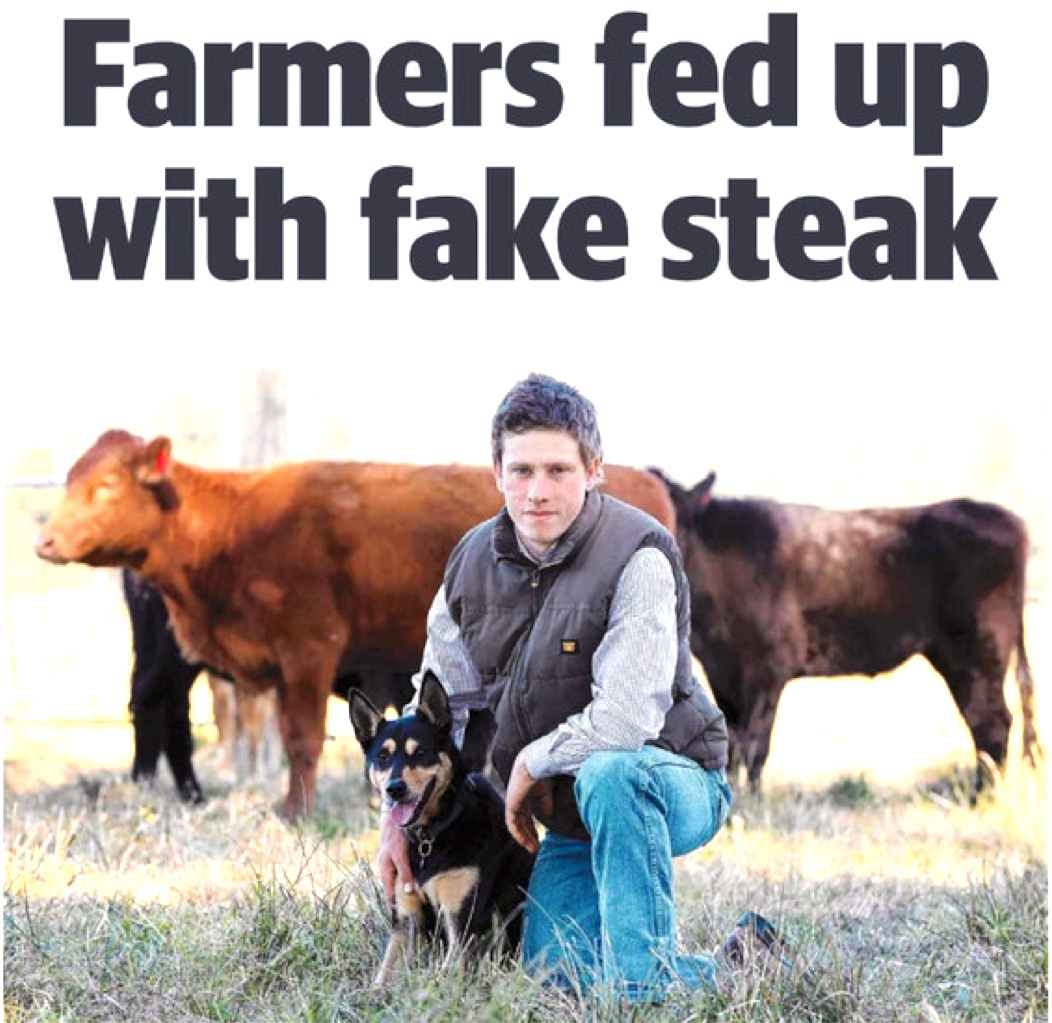 Article by Clarissa Bye courtesy of the Daily Telegraph.
MORE consumers are being "tricked" into buying fake vegetarian "meats" which are placed alongside regular cuts in supermarket aisles. But Australian farmers are now fighting back, calling for more truth in labeling laws.
Cattle and Livestock farmers claim the smorgasbord of trendy, new fake meats – using words like beef, bacon, or chicken – are not only "deceitful" but are cashing in on millions of dollars of marketing and hard work from primary producers.
A new senate inquiry is examining whether producers of plant-based and synthetic proteins can use words like "lamb" or "beef," put images of livestock on their packet and whether current labeling laws are adequate.
The inquiry is also looking at the health implications of the chemicals involved in pretend meat and the economic impact on Australian farmers. Farmers involved in the livestock trade, along with dairy and fish farmers, have all contacted the inquiry to cite examples of "misleading" advertising and confused shoppers walking out with the wrong products, such as chicken schnitzels marketed with the word "chicken". Another case cited was a $20 gourmet "meat burger" bought at an up-market art gallery cafe that turned out to be "dry and tasteless".
When the buyer complained, they discovered it was a plant product. But climate change campaigners are trying to prevent any stricter rules, claiming that eating meat contributes to global warming. The company behind the successful Cleave organic meat brand, Arcadian, say manufactured plant-based proteins should actually be called "vegetable mince" or "vegetable sausages".
"Manufactured plant-based proteins with misleading packaging are usually offered for sale in the meat section of supermarkets," marketing director Paul da Silva said. Red Meat Advisory Council chairman John McKillop called it an "a national embarrassment" that labeling standards only applied to the red meat and livestock industry – which supports 434,000 Australian jobs – and not to foreign-manufactured vegan products.
"Through deceitful marketing , ultra-processed manufactured vegan products are damaging the brand and reputation of Australian beef built by our nation's graziers over generations," he said. "It is completely un-Australian that a butcher selling steak as tofu will be fined, yet ultra-processed vegan products can be sold as beef without any penalties."
Carbon-neutral cattle farmer Daniel Miller, from Two Creeks Beef in Jilliby on the NSW Central Coast, said although the demand for beef was growing, so too were the misconceptions about the environmental impact of meat production, which is giving rise to unhealthy plant-based alternatives.
Mr Miller said it was unfair that plant-based meat companies weren't subject to the same rules and regulations as those in the beef industry. "We have so many certifiers and companies making sure we're doing the right thing whereas the plant-based companies have nothing watching over them," he told the Daly Telegraph.