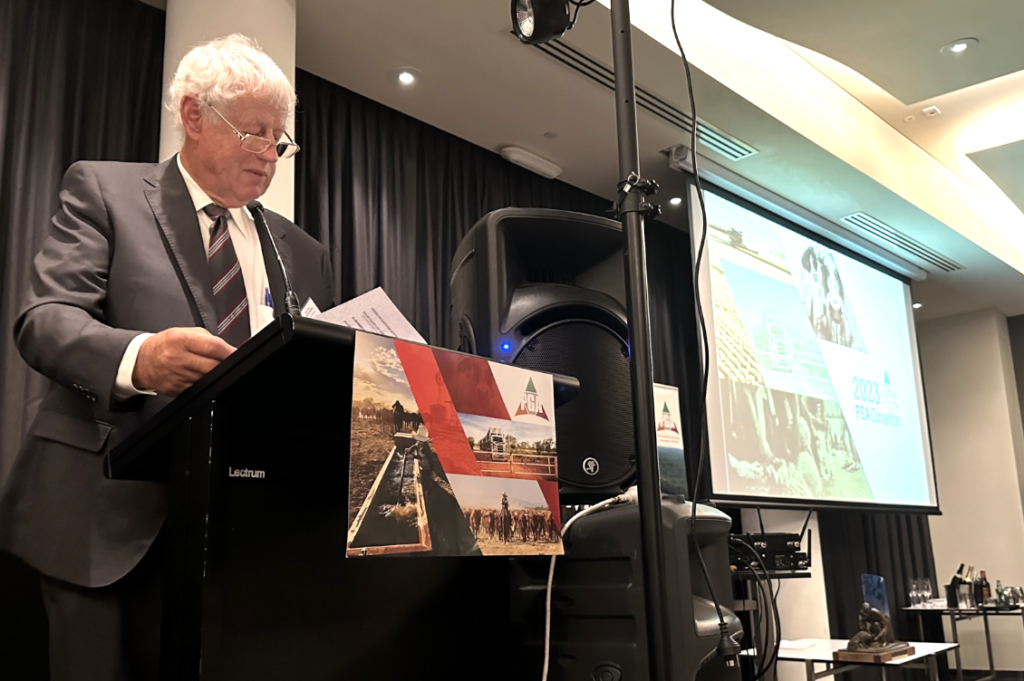 PGA ACHIEVEMENT AWARD 2023
Presented by PGA President Tony Seabrook
5 October 2023
It is gives me great pleasure to present the 2023 PGA
Achievement Award.
For over 30 years this award has recognized the contributions of
some of our most outstanding members, not only to the PGA, but
also to rural and regional Western Australia.
And it continues tonight.
It is impossible to adequately articulate the impact that our
winner has done for our industry, our Association and for rural
and regional WA.
Our winner has always held a deep love of the land, family, and
community, and exemplifies the entrepreneurial spirit that
makes Western Australia great.
Coming from one of the longest continuing pastoral families in
Australia – starting in the Pilbara region of West Australia in the
1860s, and before that on farms closer to Perth, our winner
spent her childhood on large sheep and cattle properties in the
Pilbara and attended boarding school at St. Hilda's Anglican
School for Girls in Perth.
She then began working with her father and following his death
she succeeded him as executive chairman. She then turned a
company with severe financial difficulties into the largest
private company in Australia and one of the largest mining
houses in the world, providing employment to many across the
outback of Australia.
Under her leadership, she diversified the company from
prospecting to become a miner, and further investing in iron
ore, copper, potash, gold, coal, property, and dairy and cattle.
Her vision to grow and value-add Australian food has been the
basis for significant investments, including the acquisition of
the iconic S. Kidman and Co pastoral company. Today, her
pastoral properties stretch across most states in Australia, plus
the Northern Territory.
She is also the founder of Australians for Northern Development
and Economic Vision (ANDEV), has authored two books, and
arranged and funded a third one, (for agriculture), and founded
Australia's Annual National Mining and Related Industries Day
and National Agriculture and Related Industries Day, and is
Patron of several organisations, and a governor of AmCham
(Australia).
A philanthropic champion of worthwhile causes, she is also a
strong supporter of several medical, sporting, educational,
health and community organisations. She serves as Patron of
Australia's internationally renowned Olympic swimming, rowing,
volleyball and synchronised swimming teams, whose Olympians
provide important role models for Australians.
As an industry leader and huge contributor to Australia, she
provides a role model for other women, and as many will note,
is an Australian patriot, who provides inspiration to many.
Her dedication and support for the PGA is beyond compare, as
many in this room can attest.
And as Indian Prime Minister Modhi described her "She is not
just an entrepreneur, but also a crusader for the cause. Her
area may be mining, but she has her eyes all over. Her
workplace is Australia, but she studies and compares to various
other countries and then sees frankly what she thinks is good or
bad in each.
I would like to announce the winner of the 2023 PGA Rural
Achievement Award – Mrs Gina Rinehart.
2023 Pastoralists and Graziers Association award accepted on behalf of Mrs Gina Rinehart AO, by her goddaughter, Marguerite, her cousin, Diana, and CEO of Hancock Agriculture, the honourable Adam Giles.